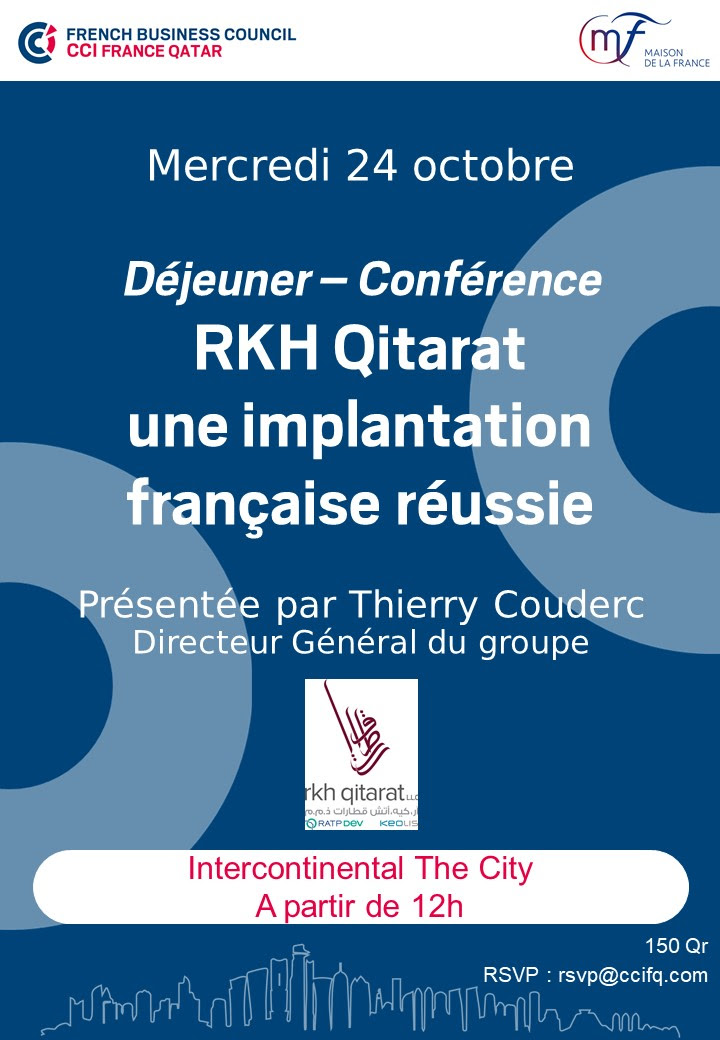 Déjeuner-conférence : RKH Qitarat, une implantation française réussie
                                                                                                                              -
Maison de la France and the French Business Council look forward to welcoming you and your guests to the October Luncheon to be held on the 24th at Intercontinental the City from 12pm.
Speaking at this event is M.Thierry Couderc, MD and CEO of RKH Qitarat, the joint venture between RATP Dev, Keolis - SNCF Group -  (49%) and Hamad Group (51%).
End of 2015, Qatar Rail Company launched an international competition for Doha Metro and Lusail Tramway Operation and Maintenance.
RKH Qitarat has secured the operations and maintenance contract for the Doha automated metro and Lusail light rail network in Qatar.
Awarded by national public transport operator Qatar Rail, the emblematic contract, for a period of 20 years, was signed on 7 December 2017, in presence of his Highness Emir of Qatar and the French Republic President.
This Qatari transportation greenfield project is currently one of the biggest of the world with 75 km driverless metro lines and 30 km tramway lines for a first phase to be achieved by the end of 2020. The metro will be one of the most modern railway networks in the world.
The development of public transport is a key priority in 'Qatar Vision 2030', the strategic plan established in 2008, which has served the government as a road map for the emirate's economic, social and environmental development.  The State of Qatar has strong development ambitions and seeks to become a global reference for smart cities.  After significantly developing its road infrastructure, the State has made major investments in urban mobility and public transport in order to reduce serious congestion on its major roads
Thierry Couderc will present this amazing human story and the Qatari project progress. 
If you wish to attend please RSVP to [email protected]. The cost of the lunch is QAR150/person. Payment is made upon arrival.
The afternoon agenda will be:
12:00 Arrival and Networking
12.30 Take seats for service of Starter.
13:10 Thierry Couderc to speak.
13:40 Service of Main course and dessert.
14.30 Event finish.
Please note the terms of our cancellation fee - if you RSVP and are then unable to attend please confirm no later than Monday 22nd of October by 8pm. Failure to do so may result in you (and your invitees, if any) being charged for the lunch.
Sincerely,
Maison de la France - CCI France Qatar